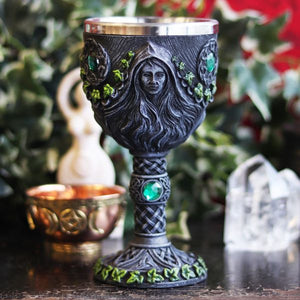 Little Witch Shop
Maiden Mother Crone Chalice Goblet
Regular price
$29.99
$0.00
Unit price
per
This Maiden, Mother, Crone, symbol is a perfect fit for your altar. The cast resin goblet is carved with intricate Celtic knot work and detailed images of the Maiden, Mother, and Crone. From the engravings to the flowing leaf accents, this goblet is a picture of the cycles of nature. Charming faux gems are set into the cast cup (gemstone color may vary) giving it a lively and luxurious feel.
With an elegant spiritual energy it is perfect for getting in the mood for your rituals, spells, and ceremonies. The Celtic designs on the stem and base of this goblet include basket weaving infinity knots and triquetras as a reminder of the everlasting within all that we celebrate.
To aid in cleaning, a removable metal cup is set inside the resin cup portion.
Measures approximately 7.5 inches tall by 3.75 inches (19 cm by 9.5 cm) in diameter.
 
The Maiden, Mother and Crone are associated with:
The Divine Feminine
The Phases of Life
The Lunar Cycles
Past, Present, and Future
Fertility
---
Share this Product
---